This year, as part of Canada's 150th birthday celebrations, Ontario has launched the #paddleon campaign to highlight the canoe as an icon of Canadian heritage. Ontario Tourism developed The Canoe, a cinematic film by videographer Goh Iromoto that explores the various ways this humble watercraft represents Canadian values. "If it is love that binds people to places in this nation of rivers and this river of nations," concludes the film's narrator James Raffan, a distinguished author and past director of the Canadian Canoe Museum, "then one enduring expression of that simple truth is surely the canoe."
What better way to take part in this intriguing and uplifting vision of Canada then to set off this summer on a journey by canoe? Better yet, make your trip in a voyageur canoe, the historical vessel of the Canadian fur trade, in which individual paddlers come together in one boat to achieve a great goal. Naturally Superior Adventures is excited about the 2017 Voyageur Canoe Brigade as a means to recreate the voyageur experience and commemorate Canada's cultural heritage on Lake Superior's wilderness coast.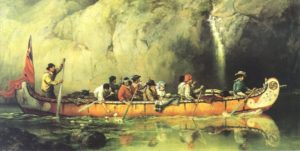 The fur trade was Canada's first industry, starting in the mid-1700s and lasting nearly a century. It relied on trading posts scattered throughout the north country to gather fur from trappers. The Northwest Company recruited young paddlers to pilot brigades of big 26- to 36-foot birchbark canoes across the country. The voyageurs were like long-haul truck drivers, delivering trade items like beads, metal pots and muskets to trading posts and returning to Montreal at summer's end with canoes brimming with valuable furs. For their exploits they emerged as early Canadian folk heroes.
Our voyageur canoe is a 36-foot fibreglass replica of a canot-du-maitre, the fur trade canoe traditionally used on the Great Lakes. It's about the length of a school bus, propelled by 10 to 16 paddlers and designed to be stable and seaworthy in waves. Most importantly, in the fur trade days and now, it's capable of holding up to four tons of cargo—a valuable asset since the five legs of our journey from Agawa Bay to Thunder Bay range from 5 to 10 days of wilderness paddling.
Ultimately, the voyageur era ended before Confederation. Fur lost its fashion appeal in Europe in the 1840s, just as the construction of locks on the St. Lawrence Seaway made freight canoes obsolete in favour of large ships. But the image of hardy, wilderness travellers—the voyageurs—remained as a pillar of Canada's vibrant canoe culture.
This summer, Naturally Superior Adventures is honoured to wear the badge of Ontario's Canadian Canoe Culture program. We believe in the canoeing's values of personal challenge, wilderness exploration, making real connections, sharing knowledge and being proud to be Canadian. Pick up a paddle and share your experiences on Ontario's myriad waterways with the #paddleon hashtag.