VOYAGE – A  Women's Paddling Adventure
Explore– Hike– Swim– Evening Campfires– Nia Dance– Beaches–Forests– Waterfalls– Voyageur Canoe
July 25- August 1, 2020
$2100Cdn (includes shuttle from Sault Ste Marie Airport to Rock Island Lodge)
Rock Island Lodge, near Wawa, Ontario, Canada
Please contact Cheryl for more information via phone: 905-979-7804 or email: [email protected]).
Join 12 women and 2 expert Naturally Superior Guides as we paddle a 36′ Voyageur Canoe along the original fur trading route on majestic Lake Superior.
Includes:
-7 nights accommodation (camping and Rock Island Lodge)
-7 breakfasts, 7 lunches and 7 dinners prepared for and served by talented outdoor chefs.
-All paddling gear, waterproof duffle bag, safety and group camping gear.
REGISTRATION open until April 30th!
There are only 12 spots available!
We only have 12 available spaces for participants. If you are interested in voyaging with us and/or would like more information, please contact us. Don't miss out on this amazing experience!
[themify_button style="large blue rect" color="#0C4EA1″ target="_blank" text="FFFFFF" bgcolor="blue" size="large" link="mailto:[email protected]"]TO REGISTER:[/themify_button]
Contact Cheryl by phone or email: Deposit on registration= $1,100
2nd Payment by June 30, 2020= $1,000  (Payment  accepted by e-transfer or cheque)
Do you hear the call of the wild, want to unplug, and love outdoor adventure? This trip will meet your hearts desire!
The adventure includes a 5 day paddling journey by Voyageur Canoe to trace the fur trading route of the Voyageurs and the history of the Michipicoten River and area.
Join our fun community of women on a voyage of discovery. Be inspired by the rugged headlands, and tranquil beach shorelines of Lake Superior. Experience 4 nights of wilderness camping, superb outdoor meals, early morning coffee by the waters edge, relaxation by cozy campfires, singing and inspirational Nia dance. Morning dips in Lake Superior for the very hardy. Build your strength with 4-5 hrs of paddling each day, with morning and afternoon breaks, and a shore lunch. Setting up camp in late afternoon with time to relax before dinner.
A highlight at our journeys end will be a visit to Michipicoten First Nations to meet with an Elder and a beautiful community of women at Whitesands Beach.
Day one, Saturday, includes lunch at Rock Island Lodge, a trip orientation, learning to paddle the Big Canoe, preparations for packing and camping, a welcome dinner, opening campfire and Nia dance.
Our final day, Friday back at Rock Island Lodge, is your Play Time at Naturally Superior Adventures, your choice to try SUP paddling, kayaking, canoeing, or simply relax and unwind. A last supper at the Lodge, Celebration campfire and Nia dance.
Saturday Morning farewell breakfast, Rock Island Lodge Shuttle departs for Sault Ste Marie at ~ 10am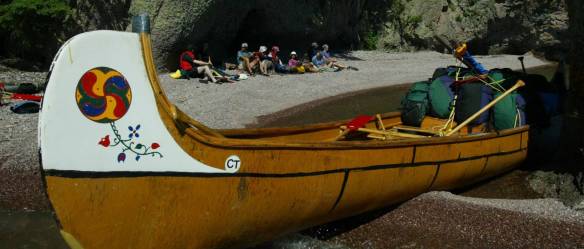 TRAVEL AND LOGISTICS
TRAVEL: Michipicoten Harbour, ON on Lake Superior is about an 11 hour drive from Toronto ON, or a 1¼ hour flight to Sault St. Marie, where a shuttle from the Lodge meets your flight for the remaining 2½ hour leg.  Round trip flights from Toronto run about $250. Carpooling arrangements, and more information about flights are through Cheryl.
FITNESS REQUIREMENTS/WHAT TO BRING: An average level of fitness will see that you are most comfortable during this adventure. Some previous paddling experience and backcountry camping is helpful but not necessary. Please take your health requirements into consideration in booking this trip. Contact Cheryl or Anna with any particular concerns.
A week's worth of layers for very changeable temperatures, including a rain jacket, hat, hiking boots or sturdy shoes, and bathing suit. Toiletries, sun screen, and insect repellant are must-haves. A complete packing list will be provided upon registration.
ABOUT CHERYL: Cheryl was born in Wawa, and grew up in the active, rural environment of the Lake Superior shoreline. After a long, philanthropic career promoting education, health care, and the arts, she is now pursuing her passions of hiking, cycling, travelling, and more.  A longtime Nia student, Cheryl recently completed her White Belt intensive. She is also an Ontario certified hike leader, introducing groups to the joys of hiking in the Greater Toronto area, where she lives with her partner, Gord. She looks forward to introducing you to the natural beauty of wild Ontario.
ABOUT ANNA: Teaching Nia since 2000, Anna, a Black Belt for thirteen years now, has inspired and mentored many on their own Nia and fitness journeys.  She has produced events in Toronto for Debbie Rosas and Carlos-AyaRosas, the creators of Nia, and has offered her own classes and workshops in Canada, the U.S. , and Israel. With decades of experience in dance, Nia, and fitness, group facilitation, and the exploration of the inner landscape, she is delighted to invite you on this Voyage. Anna lives and teaches in a house in the woods in the Greater Toronto area. 
[themify_button style="large blue rect" color="#0C4EA1″ target="_blank"text="FFFFFF" bgcolor="blue" size="large" link="mailto:[email protected]"]BOOK NOW[/themify_button]